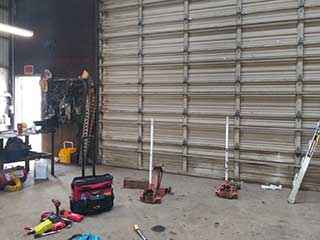 Different things can cause garage doors to have problems with hardware or electrical components. If the springs break, the main pulling system of the door can no longer support it. When the opener isn't working like it's supposed to, you've got a potential problem with the hardware garage door parts or the logic board or wiring. Whatever the cause, our professional Bridgeport garage door repairmen can find the root issue and fix it. We offer emergency repairs for garage doors in all closeby areas to ensure customers get help on the same day they call.
Cable Came Off The Drum
With the lift cables of your garage doors so important for its opening and closing function, when a cable comes off the drum for some reason, it creates quite an issue. The garage door cable getting snagged on something can pull it off the drum. That means it won't be able to lift the door properly. With this type of situation, you need to have the cable checked for fraying and looped back onto the drum.
Broken Garage Door Spring Replacement
When it comes to the springs, you'll want to get a professional to carry out any adjustment or replacement. How come? Because broken garage door springs present some serious dangers when accidentally handled incorrectly. Replacing springs on your garage door can be dangerous because you load them with tension that can cause them to break. To prevent major injuries, let a garage door spring repair experts near Bridgeport handle the job. You'll save yourself the hassle, avoid the danger, and save money on additional repairs later on.
Garage Door Opener Repairs and Troubleshooting
Different parts of the opener can make it go haywire or stop working at all. Sometimes the opener remote transceiver needs troubleshooting, other times it's the logic board. And other times yet it's the different garage door opener parts like the trolley, motor gear, chain, or other drive systems. With opener troubleshooting, it can take some experience to know what to look for. With help from our garage door opener repairmen near Bridgeport, you can get such issues solved very quickly. We know a speedy response matters a lot, and we always do our best to provide the quickest opener repairs to all the nearest areas.
Best Garage Door Repairs Near You
No need to look for ages for quick assistance with different problems. Garage door springs, openers, tracks, and more can all receive the best of fixes when you turn to our local technicians for a solution. With the top garage door repair services near Bridgeport available everyday and every weekend, you have recourse for any problem. Got an unexpected issue? Call to get any nearby garage doors repaired today!