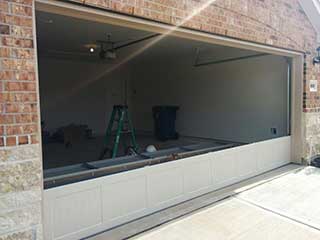 Pay Attention To Your Door
If your garage door is having trouble opening, reverses suddenly when trying to close, or any other unusual problems arise, don't wave it off! Leaving any malfunctions to simply linger over time not only makes your door frustrating to deal with, but the trouble will only worsen over time and strain the rest of the system. It's best to get it taken care of as soon as possible to keep your door in good health for years to come!
Springs Are Vital
Whatever type of spring your door may have is what supplies the power to get it moving! If your springs have become worn down over the years, or have broken entirely, your door isn't going to be going anywhere very easily. We can replace both torsion and extension type springs in no time, and far more safely than you can yourself! Trying to DIY a spring replacement is dangerous for you and can cause more trouble if it isn't done correctly. That's why it's best to allow a professional to handle things.
Opener Repairs Or Replacements
Our experts are knowledgeable in all major brands of openers from Craftsman to Genie so there's no need to worry about what kind you have and whether we'll be able to take care of it! We'll inspect your opener and its remote to determine what the issue is, whether it's the motor that needs replacing or its sensor board is malfunctioning, and get it tended to right away. If it's too old to work well anymore, or you'd like to upgrade to a newer model, we can take care of that as well in no time!
Tracks Are No Problem
Sometimes the track your door is on moves from a bump, or the door itself is knocked out of place. Whatever the case, one of our technicians will be able to realign everything in no time!
Call Us Today
Contact Garage Door Repair Bridgeport now for all your garage door's needs!
When it comes to your door, we don't settle! We also offer:
Garage Door Off Track Repair
Garage Door Tune Up Services
Screw Drive Opener Replacement
Garage Door Extension Spring Replacement