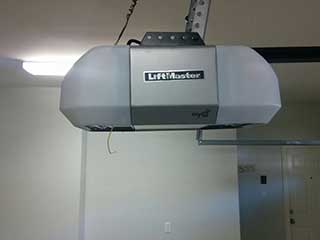 Does Your Opener Need Attention?
There are numerous signs that can mean that your garage door opener is struggling to work, such as it making a much louder racket than before or having trouble opening and closing correctly. If you've already checked the batteries in your remote, the issue is probably something more in-depth that requires an expert to take care of. Continuing to use your door when the opener is malfunctioning will only worsen the problem, as well as potentially cause more to deal with due to the strain it puts on the other parts, so it's best to get it taken care of sooner rather than later!
Professional Opener Troubleshooting
Don't worry if you have no clue what's wrong with your opener, that's what we're here for! We'll do a thorough inspection of your opener and all of its related components to determine what exactly is causing the problem and the best solution for it. It may require a part such as the motor to be repaired or replaced, or merely need some bolts tightened that were jostled loose from years of use. Whatever the case, we'll happily handle it for you!
Installation Is No Problem
If you're looking for a brand-new opener that's quieter or more powerful than what you have now, we can help you find the perfect fit for your home. We'll get it put together and installed into place before you know it! That way you know everything was done correctly and it will be working like a charm. Even if you've already bought your new opener, we can still easily and affordably install it for you!
Keep Kids & Pets Protected
The safety mechanism that tells your door to reverse if something is beneath it is a necessity to keep people safe that may be near your door, so make sure it's functioning perfectly! We'll run careful tests to confirm it's in the best shape possible.
Call Us Now
Contact Garage Door Repair Bridgeport today for any of your opener's needs!
You can also count on us for:
Opener Sensor Replacement
Extension Spring Adjustment
Garage Door Tune Up Services
Broken Garage Door Spring Replacement