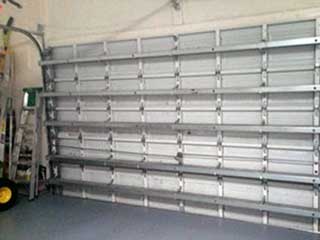 Do You Really Need It?
With so many other projects you'd like to accomplish for your home, you may wonder if it's really all that big of a deal to get periodic maintenance done on your garage door. The truth is, you should probably consider it! Maintenance can protect against bigger issues down the line that may leave your door unable to work when you need it most. Rather than be blindsided by sudden disrepair, maintenance will help you stay on top of things. It also keeps it working far more smoothly than it would otherwise and improves its lifespan!
Make Sure Your Door Is Safe
This is of particular importance for any home that has pets or children who may wind up under the door when it's starting to close. The safety sensors are what tell the door to stop and reverse if something is under it, so sensors that aren't working properly are a huge risk. Our professionals will carefully inspect and test them to make absolutely certain that they're working as they should to protect you and your family.
We'll Look At The Whole System
Allowing one of our experts to inspect your garage door entirely every now and then is the best way to ensure that your door and its parts last as long as possible! We can catch early signs of trouble like rusting or wear now, rather than letting them go until they break and leave your door unable to function properly when you need to get on with your schedule.
Get Your Door Moving Easily
Part lubrication helps both the speed and smoothness of your door moving along the track so you aren't stuck waiting for longer than necessary, as well as rejuvenates the parts themselves. The springs may get brittle over the years, which make them more likely to break, but this will help them remain limber.
Schedule Your Appointment
Call Garage Door Repair Bridgeport now to get your garage door back in shape!
We also offer the following:
Oil Tempered Torsion Springs
Emergency Garage Door Services
Garage Door Safety Inspections
Opener Sensor Repair & Replacement